Below are upcoming auctions and activities that should be of interest to THCKK members and others interested in Winchester, Keen Kutter, Diamond Edge, Blue Grass, etc. items:
Come back to this Web page from time to time to find excellent auctions.
SELLER: JIM BLACKFORD ESTATE, BETTY BLACKFORD SELLER
SATURDAY, 11 APRIL  2015,  9AM
DIRECTIONS: FROM RT. 130 SOUTH OF OLNEY, IL TURN EAST ON RADIO TOWER LANE GO 2 MILES TURN SOUTH ON VAN ROAD. AUCTION WILL BE HELD IN THE 2 WHITE BUILDINGS. SIGNS WILL BE POSTED. TERMS: CASH OR GOOD CHECK DAY OF SALE. ALL ANNOUNCEMENTS SALE DAY TAKE PRECEDENCE OVER PRINTED MATERIAL.
THIS IS AN ONLINE & ON SITE AUCTION, THE NUMBERED ITEMS ON THIS SALE WILL BE OFFERED ONLINE BEGINNING AT 9:30 AM. SO YOU MAY BID ONLINE OR ON SITE.
CLICK HERE TO ENTER THE AUCTION
BID LIVE ONLINE @ AUCTIONZIP.COM ON SELECT LOTS @ 9:30 AM
A lot of tools including Simmons, Keen Kutter, Shapleigh, Diamond Edge.
SEVERAL HAND MEAT GRINDERS 19+ HAND CRANK CORN SHELLER`S INCLUDING: EAGLE, HOME SHELLER, NEVER FAIL, RUN EASY, BLACKHAWK, DAVID BRADLEY
CALF WEANERS, TRAPS, SEVERAL AXE HEADS W/EMBOSSED BRANS, GLASS GEAR SHIFT KNOBS, CORK SIZERS, HANGING SCALES, DRILL BIT INDEXES, 19+ SPOKE SHAVERS, BUCKEYE TWIN POST DRILL, WOOD MACHINIST TOOL BOX, BUDDY L WOOD TOOL CHEST, SHUCKING PEGS, CORN SHOCK TIER, BRASS FIREMAN`S NOZZLE, LIGHTING ROD BALL & DISPLAY W/WEATHER VEIN
SEVERAL OIL CANS INCLUDING: VALVOLINE, CHAMPION, GOLDEN SHELL, WANDGREASE, SAPHIRE, WARDS, TRAFFIC, RILEY BROS, STANDARD SEVERAL SMALL OIL CANS INCLUDING:(2) MAYTAG`S, WOLFE AUTO SUPPLY ADVERTISING PIECE, YANKEE KINDLER CO. OLNEY, IL SAMPLE BRICK, PIONEER SEED SIGN (DAMAGED) , CAST IRON PLANTER LIDS INCLUDING: IHC, CASE, HAYES, HOOSIER, (5) JD PLANTER LIDS ON A BOARD, COLLINS & CO. BROAD HEAD AXE
OLD FENCING TOOLS, EARLY RED DEVIL GLASS TOP FENCE CHARGER, PRIMITIVE FENCE STRETCHER
100`S OF IMPLEMENT WRENCHES, 20+ 6" CRESCENT WRENCHES, METAL SHELVING UNIT FULL OF OLD WRENCHES, LOTS OF SMALLS
SATURDAY APRIL 18, 2015 @ 9:00 AM
6218 Bass Rd., Fort Wayne, IN 46804
PERSONAL PROPERTY AUCTION!
Nice selection of antique & modern furniture, antiques & collectibles (Mail Pouch advertising scales, hand tools), modern tools, firearms & much more!
Auction location: close to Buckner Park (Flaugh Rd & Bass Rd)
Looks like some interesting Winchester and Keen Kutter items + many other items
ANTIQUES & COLLECTIBLES • ANTIQUE & MODERN FURNITURE • FIREARMS, KNIVES & RELATED ITEMS • ANTIQUE & MODERN TOOLS (POWER & HAND) • VINTAGE CAR PARTS • MISC. SCRAP METAL & WOOD • HOUSEHOLD ITEMS • MISC. GARAGE ITEMS
ANTIQUE & MODERN FURNITURE:
3 drawer chest; 2 tier stack bookcase; oak GE store display case; 28 drawer oak typist chest; oak typist chest without drawers; oak roof top desk top; Remington Ammunition cabinet; metal desks.
ANTIQUES & COLLECTIBLES, ANTIQUE TOOLS & MORE:
cast iron pot belly stove; Norfolk & Western lock; very unusual round lantern; Standard Computing Scale Co. brass grocery store scale; 5 gal. crock butter churn; Stanley #12 scraper plane; metal & wood 28 drawer post office chest; Force 10 Kilo brass & iron balance scale; F.S. Webster Co. Boston Mass. U.S.A. Cast iron pencil sharpener Pat. June 21, 1892 – May 1, 1900; balance beam scale; cast iron kitchen scale; Keen Kutter razor; Gillette razor blades; Kris's Kross razor blade sharpener; Wayne Wood Farms advertising bottle opener; Chris Bullerman & Sons Farm advertising bottle opener; Keen Kutter envelope; Wayne Used Car Sales Co. Ft. Wayne advertising screwdriver; Gillette advertising display case; Ft. Wayne advertising bullet pencil; numerous advertising items; brass hanging scales; Bowser salesman sample working model oil pump; National cash register; Clipper Deluxe plaque; cast iron balance scales; kitchen scales; 8 hole candle mold; Coleman lanterns; C& O railroad lantern; Marbles match safe; cobblers hammers; jugs; wood tool box; several advertising wood ammo boxes; old bottles; Flaugh Dairy wood crates; wood cigar boxes; wood Coca Cola bottle carrier; unusual fabric duck decoy; Mail Pouch Tobacco advertising poster; Chen Yu glass display case; Clay Robinson Live Stock Commission poster framed; canes; yard sticks & walking sticks; framed Indiana map; metal cylinder vacuum; hand tools galore; old levels; Jensen steam engine with box; Weeden steam engine; block planes; Sears Roebuck Water Witch boat motor; glass mail box; hack saws; Yankee screwdrivers; plumb bobs; leather cutting tools; axes; hardware; hammers; draw knives; Stanley #62 folding rule; squares; lettering & number sets; Stanley #148, Stanley #113, Stanley #100 1/2 planes; braces & bits; wood scribes; blacksmith tongs; calipers; machinist tools; sheep shears; saw sets; wood cash register box; jewelers lathe by American Watch Tool Co.; Stanley no. 34 sweetheart 8″ level; lots of lathe tooling; Sypher Mfg. co. small lathe; Beaver small wood lathe; wood machinist tool box; golf clubs; Maytag oil cans; Texaco outboard motor oil can; glass oil bottles; sled runners; wood dolly; Weatherhead Ft. Wayne division display cabinet; wood clamps; wood block planes; gas light; wood spinning wheel; Herm. Weissleder Co. Milwaukee Wis. steam gage by Crosby Boston, Mass.; Willys Knight Automobiles Overland advertising thermometer Ft. Wayne, Ind.; cast iron horse head horse tie; barn lanterns; copper candy kettle; saddle; twist handle wrenches; Gene Autry cap gun & other toy cap guns; milk bottle capper; metal heater; cannon ball; Diamond gas iron; copper tray; horse hames; lg. wood clamp; bicycle parts; galvanize milk bucket; mesh meat cutters glove; one arm mans knife & fork; many car & truck repair manuals, some imports; balance scale; hay carriers; tile shovel; gas blow torches; child's metal wheel barrow; wood trunk; wire rim glasses; wood handle monkey wrenches; alligator wrenches; bone handled walking cane; wood organ stool; hired hands bed; RR baggage cart; red tool trunk; barn beam auger; wash tub rack; buck saw; wood pulleys; green wood tool trunk; platform scale; no. 7 Schwarze bell; can; miners lamp can; 1902 Kodak; Keystone movie graph film; vintage camera accessories; Winchester & Remington wood ammo crates; Bakelite flashlight radio; antlers; advertising knives; vintage razors; A&O sweet shop matches Ft. Wayne; egg grading scale; Boy Scout fly tying kit; pitcher pump; 4 way buggy wrench; Superior stand; wood shaft golf clubs; South Bend wood stove; Triner parcel post scale; Elkhart flute; oil cans; Cornhuskers; Dunhill crock;Superlative cream separator oil can; grabber tool; Essex wire crate; repair manuals; Adirondack sled; typewriters; vintage hats; Kraft silver burnisher; galvanized sprinkling cans; wood wheel; coal can; telephones; AC filter display; Hubbard oven bake rite; Magna girls bike; piano rolls; steel wheels; misc. Wood pieces; school locker; fire hoses; furnace blowers; 2 web chairs; wood corner posts & banisters; wood doors; Canyon seed bags; tobacco tins; candle rubbers wood box; cream can; school desks; coat hooks; vintage door knobs, plates & hinges; padlocks; Myers hay unloaded.
MODERN TOOLS:
Craftsman 20″ with 3 jaw chuck metal lathe; extra 3″ 4 jaw Chuck & 4″ 4 jaw Chuck; nut & bolt organizers; indicator dial machinist tool; metal machinist tool box; Dunlap 3′ wood lathe; taps & dies of all sizes; C clamps of all sizes; bar clamps; pipe wrenches from 4″ to 24″; Simonds wood working catalog; Ryerson Steel Service booklet; many copper & brass fittings; trowels; Walker Turner bench top drill press; 1/2″ air impact; air ratchet; air drills; Craftsman 5hp air compressor with 20 gal. tank; bench grinder; bottle jacks; Devil electric paint can shaker; Bumble Bee trolling motors new in box; meat saws; Craftsman table saw; Craftsman 6″ bench grinder; Craftsman small table saw; electric motors; lg. asst. drills & drill bits; cutting torch; hoses & gages; chain hoist; Worthington air compressor; German made chisel set; Rivett Kinsey Machinery Co. Cinn. Ohio model 505PB733 lathe; asst. router bits; log chains; Dado cutter blades; calipers; Craftsman jig saw; Makita jig saw; Rockwell drill; Makita reciprocating saw; Rockwell sander grinder; wood working bench; DeWalt cordless drills; corner sander; DeWalt belt sander; Craftsman 1hp router; Porter Cable router model 75372; Craftsman skill saw; Craftsman jig saw; roto zip; spiral saw; 3/8″ Chuck drills; router table; Delta 15″ scroll saw; Boioe wood lathe; DeWalt 4″ angle grinder; laser level; Porter Cable air finish nailer; Wilton plainer; Craftsman scroll saw; leather tool belt; machinist vise; cement stakes; beam drill; sheet metal shear; Footsmith lathe; barking spud; Westcott crescent wrench; IH wrench; sledge hammer; scissor jack; Stanley tape measures; battery testers; antique floor jack; Eastwick hammer; Big Chief cutter; steel cable; scaffolding; barn drill; copper pipe; saw vises; fence stretcher; Sears router; pick hammer; cast iron tool box; blacksmith tongs; Williams tool catalog; brass fittings; air chucks; asst. pliers & nippers; staplers; staple guns; many fine wire rolls; oil stones; levels; chisels; carving tools; bevels; squares; paint brushes; hammer handles; short angle iron; bottle jacks; nail sets; punches; files; tube cutters; snaps & swivels; hammers & hatchets; valve & piston clamps; hitch balls; ratchets & sockets; electric tools; adjustable wrenches; channel locks; vise grips; crescent wrenches; pry bars & pullers; hose clamps.
10th Annual 2 day Humboldt Tool Auction
1-2 May 2015
Humboldt Fairgrounds Building (Events Center)
311 6th Avenue, North
Humboldt, IA 50548
23 May 2015
Harvester Lions Club
4835 Central School Road
St. Charles (St. Louis area), MO 63304
Michael Auction Service
6 June 2015, starting at 11 am.
5311 Skuse Road
Osseo, MI
Stanley planes inc. # 11, 25, 45's(2), 71 (3), 71 ˝ (2), 77, 78 (3), 127, 205 & 2-Stanley #45 Foulten Blaine planes. Bailey #5 plane; Keen Kutter #35 Sargent plane; Great Neck G-5 plane other planes inc. Upson-Bedrock-Sargent-Craftsman-etc., well over 200 planes in all. Ohio Tool crown molding plane 5 ˝ in. wide(nice); quantity of moulding (simple & comples)-block-plow-rabbet-jointer-jack-dovetail-fore-compass-coopers-and many more. One of the largest plane collections I've ever seen. Lots of Stanley levels inc. # 36, wood & brass-brass pocket and more; # 12 & 18 scrapers; draw knives inc. dual-folding-single-etc.; cooper tools; gauges-compasses-etc.; Quantity of old augers and wood bits; Starrett cast iron level, variety of wood & brass bound levels; some wheelwright tools; old axes-adze's-wrenches-etc.; 2 Slater hammers; Pexto hammer; misc. hammers; Cobbler & cabinet makers tools; spoke shaves; curved chamfer knife; wood braces inc. angle & breast; Boston wood mallets; 3 Winchester hatchets; Winchester auger bit set in box (nice); several boxwood folding rules; 3 Reid's #1 ratcheting screwdrivers; archimedian style drills; old wood Spur auger bit box (nice); wood maul; broad axe; several finished wood machinist & tool chests; hundreds of old wood handle wrenches-T squares-screw drivers-chisels-etc.; several wood carpenters chests inc. a Milk Pan Dewey "DL Miller, Osseo, MI. carpenters chest (unique); many chest are refinished. Several wood tool boxes, some ornate; barn beam drill; Wabash RR oil cans; several old RR padlocks inc. NYCR-PCRR-MW&Co-MVRR & N&W, old Ford -Adlake-Eagle-Yale-Wabash & Excelsio padlocks; old Red globe Dietz lantern; 2-#33 Artic ice shavers; old oil-fuel & grease cans; old cast iron Ford tire pump; old US-QMC tire pump; old Schrader balloon tire gauges; 2 old counter top scales; 1 gallon kerosene cans; old IXL inland pump; small hanging barn scale; metal shelving units; lots of old hand and field tools;
Upcoming Three Day Greenville, Kentucky Auction - Tools, Machinery, RR, Keen

Kutter

, Winchester, Firestone, Advertising, Padlocks, Blacksmithing, Industrial, and Collectibles
The coming June 11, 12, 13 2015 there will be an immense three day auction of the estate of a very discrete and discriminating amasser of everything he came across and liked over his lifetime as a Miner in Kentucky.
Parrott Auction Service
Saturday, 23 June 20125, 12 noon
Keen Kutter items and many other antiques
401 N. Harrison, Oblong IL 62449
<![if !vml]>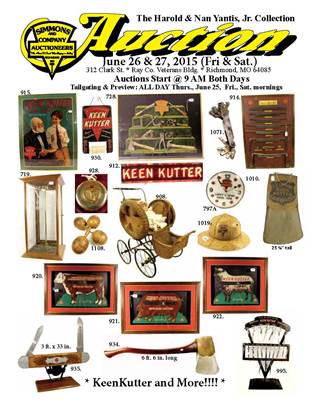 <![endif]>
Fantastic Upcoming Auction
Keen Kutter/Simmons Hardware Collection of Harold and Nan Yantis, Jr.
One way to describe this auction is some of the Best of the Best Keen Kutter and Simmons Hardware items to be found.  Even though this auction is live and online, you can best see the quality of most of the items by attending the auction in person.
Friday and Saturday, 26-27 June 2015
312 Clark Street, Ray Co. Veterans Building
Richmond, MO 64058
NOTE:  The auction is now on Proxibid:
6th Annual Hotter 'N Hell Antique Tool Auction
11 July 2015
Harvester Lions Club
4835 Central School Road
St. Charles (St. Louis area), MO 63304
8th Annual St. Charles Antique Tool Auction
19 September 2015
Harvester Lions Club
4835 Central School Road
St. Charles (St. Louis area), MO 63304
3rd Annual Fall Antique Tool Auction
21 November 2015
Harvester Lions Club
4835 Central School Road
St. Charles (St. Louis area), MO 63304