Below are upcoming auctions and activities that should be of interest to THCKK members and others interested in Winchester, Keen Kutter, Diamond Edge, Blue Grass, etc. items:
Come back to this Web page from time to time to find excellent auctions.
23 May 2015
Harvester Lions Club
4835 Central School Road
St. Charles (St. Louis area), MO 63304
Michael Auction Service
6 June 2015, starting at 11 am.
5311 Skuse Road
Osseo, MI
Stanley planes inc. # 11, 25, 45's(2), 71 (3), 71 ˝ (2), 77, 78 (3), 127, 205 & 2-Stanley #45 Foulten Blaine planes. Bailey #5 plane; Keen Kutter #35 Sargent plane; Great Neck G-5 plane other planes inc. Upson-Bedrock-Sargent-Craftsman-etc., well over 200 planes in all. Ohio Tool crown molding plane 5 ˝ in. wide(nice); quantity of moulding (simple & comples)-block-plow-rabbet-jointer-jack-dovetail-fore-compass-coopers-and many more. One of the largest plane collections I've ever seen. Lots of Stanley levels inc. # 36, wood & brass-brass pocket and more; # 12 & 18 scrapers; draw knives inc. dual-folding-single-etc.; cooper tools; gauges-compasses-etc.; Quantity of old augers and wood bits; Starrett cast iron level, variety of wood & brass bound levels; some wheelwright tools; old axes-adze's-wrenches-etc.; 2 Slater hammers; Pexto hammer; misc. hammers; Cobbler & cabinet makers tools; spoke shaves; curved chamfer knife; wood braces inc. angle & breast; Boston wood mallets; 3 Winchester hatchets; Winchester auger bit set in box (nice); several boxwood folding rules; 3 Reid's #1 ratcheting screwdrivers; archimedian style drills; old wood Spur auger bit box (nice); wood maul; broad axe; several finished wood machinist & tool chests; hundreds of old wood handle wrenches-T squares-screw drivers-chisels-etc.; several wood carpenters chests inc. a Milk Pan Dewey "DL Miller, Osseo, MI. carpenters chest (unique); many chest are refinished. Several wood tool boxes, some ornate; barn beam drill; Wabash RR oil cans; several old RR padlocks inc. NYCR-PCRR-MW&Co-MVRR & N&W, old Ford -Adlake-Eagle-Yale-Wabash & Excelsio padlocks; old Red globe Dietz lantern; 2-#33 Artic ice shavers; old oil-fuel & grease cans; old cast iron Ford tire pump; old US-QMC tire pump; old Schrader balloon tire gauges; 2 old counter top scales; 1 gallon kerosene cans; old IXL inland pump; small hanging barn scale; metal shelving units; lots of old hand and field tools;
2006 US Hwy. 62 West
Luke's Town And Country Flea Market
Greenville, KY
The coming June 11, 12, 13 2015 there will be an immense three day auction of the estate of a very discrete and discriminating amasser of everything he came across and liked over his lifetime as a Miner in Kentucky.
THURSDAY: Railroadiana; cast iron stove; Griswold and Wagner cast ironware; mining collectibles; militaria; police and fireman items; medical antiques; musical instruments; Indian artifacts. Cast Iron stoves and large sugar kettles are also included on the Thursday auction.
FRIDAY: Americana; country and farm collectibles; Keen Kutter, Winchester and Firestone tools; hatchets; broad axes, blacksmithing tools; bicycles; advertising. Included in the Friday categories will be wagons, tobacco wagons, bicycles (4); crocks; marbles; Owensboro wagon wheels; water pumps; fire hydrants and gas pump; and a copper moonshine still will also be sold on Friday.
SATURDAY: Antique display cabinets; mason jars; vintage clothing; antique bedroom suits, antique architectural items and primitives.
Mark Krausz Auction Service
Real Estate & Antiques
Sat, June 20, 2015; starting @ 10 AM; RE @ 1 PM
609 Clinton Street, Germantown, IL
(app 40 miles East of St. Louis)
HIGHLIGHTS
Nice 3 BED Home & 2 Buildings on a corner lot. Large Adjacent Corner Lot to be sold separately. Bottles & Jars; Wooden Boxes; Advertising Tins & Containers; porcelain items; cast iron items; pictures & frames; Old Mortising Machine; Cream Separators; awesome Keen Kutter, Shapleigh's Hardware, Oak Leaf & OVB items books & rare tools; wood plane collection including awesome Stanley & other related items; brass blow torches; draw knives; butcher equipment including kettle stirs; hog scrapers; wooden barrels & butcher tubs; tub stand; wooden block pulleys; horse eveners; saws; scale weights; old tools; copper wash boiler & copper bottom tea kettles; spice cabinets; kerosene lamps; bracket lamps; carbine lamps; bracket lamps; carbine lamps to extra large; awesome stoneware milk pitchers; crocks to 10 gallon; crock bowls; butter churns; antique barbed wire; fence stretcher; wooden block pulleys; cross cut saws; WW1 metal helmet; German bottle caps; kraut cutters; well pumps; bicycles; coal buckets; old wringers from washers; ear corn dryers; (2) red RR crossing lights; peddle grinder; zinc lids; Old tall hat in leather case (unusual); Metal blade fans; Old typewriters; food grinders; old wood telephones; pictures & frames; old light fixtures; displays; baskets; perfection heaters; glassware; Antique Furniture; Antique Bed set (tall full bed, extra nice-dresser w/mirror, wardrobe); Beds; dry sink; hall tree seat; a lot of tables; 50+ dining chairs including cane seat; camel back & steamer trunks; lamps; smoking stands; wash stand; small washing machine; a lot of antique wooden furniture parts & misc wood; marble pieces; antique wood & porcelain furniture rollers; 100's of wooden drawers; bicycles w/gas tanks; old baby stroller; coaster wagons; Cub Cadet LT 1046 23HP/46" riding mower; washer & dryer; microwave; 2 door refrigerator; combination safe & so much more!
<![if !vml]>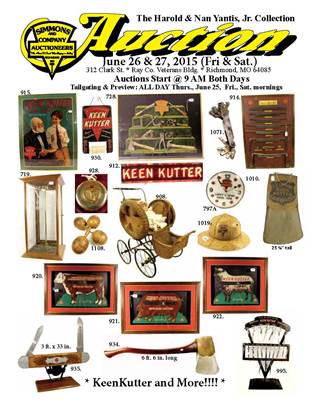 <![endif]>
Fantastic Upcoming Auction
Keen Kutter/Simmons Hardware Collection of Harold and Nan Yantis, Jr.
One way to describe this auction is some of the Best of the Best Keen Kutter and Simmons Hardware items to be found.  Even though this auction is live and online, you can best see the quality of most of the items by attending the auction in person.
Friday and Saturday, 26-27 June 2015
312 Clark Street, Ray Co. Veterans Building
Richmond, MO 64058
NOTE:  The auction is now on Proxibid:
6th Annual Hotter 'N Hell Antique Tool Auction
11 July 2015
Harvester Lions Club
4835 Central School Road
St. Charles (St. Louis area), MO 63304
8th Annual St. Charles Antique Tool Auction
19 September 2015
Harvester Lions Club
4835 Central School Road
St. Charles (St. Louis area), MO 63304
3rd Annual Fall Antique Tool Auction
21 November 2015
Harvester Lions Club
4835 Central School Road
St. Charles (St. Louis area), MO 63304